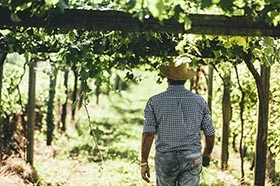 Visita Martín Códax
Guided tour of the winery where the development process of Albariño wine is explained.
Important: Every single tour and tasting must be booked in advance contacting with us in the email enoturismo@martincodax.com or in the phone number 986526040
Martín Códax The Troubadour Tour
Includes:
Guided tour through the winery with an explanation of the Albariño winemaking process.
Sensory tasting experience
Tasting of three of our signature wines with three Galician cheeses:

Albariño Martín Códax & Arzúa Ulloa cheese
Albariño Martín Códax Lías & O Cebreiro cheese
Albariño Organistrum & San Simón cheese
Languages: Spanish, Galician and English.
Tour length: 90 minutes.
Visitors: 2-30
Hours: 12.00h.